In Flames – All That Remains – All Hail The Yeti // Louisville, KY 2.20.19
By Stitched Sound on February 28, 2019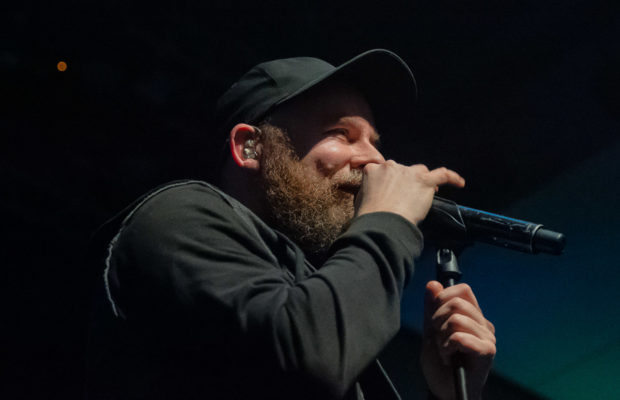 In Flames with All That Remains and All Hail The Yeti
Mercury Ballroom
Louisville, KY
February 20th, 2019
Photos and words by Emily May
 Swedish metal band In Flames, who recently toured with All That Remains and All Hail The Yeti, made a tour stop in Louisville, KY to a packed house.  The band formed in 1990 and, as a forefather of melodic death metal, have amassed an ever-growing fan base over the years.  The crowd this evening was excited for the night to come, filling the air with an electric energy that kept everyone in good spirits.  As the band took the stage, the crowd exploded into cheers and screams as they started things off with "Voices" followed by "Everything's Gone", "Pinball Map" and "Where The Dead Ships Dwell".  In an unfortunate turn of events, the band's guitarist Niclas Engelin was unable to make the tour and former Megadeth and current Act Of Defiance guitar player Chris Broderick performed in his stead, earning praise from the other members.  The band was in high spirits this evening, with vocalist Anders Fridèn enjoying a lighthearted and witty banter with the crowd throughout their set.  At one point, he realized there was a fellow Swedish person in the crowd and said "Are you Swedish?  We should speak in Swedish, but then no one else would know what we are saying!", which got a laugh out of everyone.  Saying that the band usually reserves this for the end of the evening, Fridèn then told the crowd how awesome it was to be a part of what they do and that without their fans, such as the ones in attendance this evening, the band would be nowhere and gave the crowd a genuine thank you, saying that he seriously meant it "from the bottom of his cold, Swedish heart".  The band then launched into "Monsters In The Ballroom" and continued to perform hits such as "Leeches", "Colony" and "I Am Above", with Fridèn explaining that it was an angry song about people you don't want in your life anymore.  The crowd enjoyed plenty of crowdsurfing and band-led singalongs with their fists in the air, with the band and crowd feeding off of the energy of each other.
Towards the end of the set, someone shouted something to Fridèn, causing him to ask "Did someone just say can we get 10 more songs?", to which he responded "I wish"!  He then went through the band and thanked each band member before singing "The Mirror's Truth".   "We appreciate you coming out and couldn't do this without you.  Have a good night.  Treat each other with respect and don't drink bad beer (he had called out a fan earlier in the set (all in good humor) for drinking bad beer).  The band then ended the evening with "The End", bowing and waving to the crowd before exiting the stage.  It was a really great evening of music and laughs.  All That Remains and All Hail The Yeti opened the show.  
Copyright © 2013 Stitched Sound.