Joanne Shaw Taylor to release her new album 'Reckless Heart' on May 17th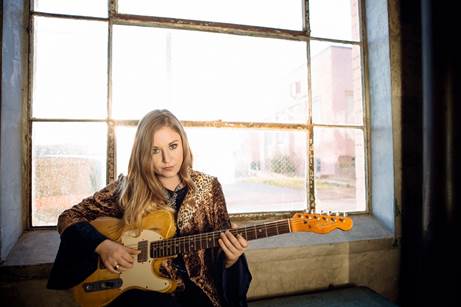 British guitarist Joanne Shaw Taylor will be releasing her upcoming album Reckless Heart in the US on May 17th via Silvertone/Sony.  Illuminating all the corners of her firecracker personality, the forthcoming release was born out of a newfound openness and confidence that can only come with life experience. Both a make-up and a break-up album, it was written by Joanne during two phases of a relationship: the fall out and getting back together.  In several senses, Reckless Heart is an album of firsts for Joanne. It's the first made in her adopted home town of Detroit, the first produced by her close friend Al Sutton (Greta Van Fleet, Kid Rock), the first largely recorded live (with no guitar pedals and with some of Detroit's best musicians – among them jazz drummer Ron Otis, bassist James Simonson, and keyboardists Phil Hale and Chris Codish), the first to feature an unplugged solo performance, and the first with her new label home Silvertone/Sony.  The album features 11 tracks that explore a variety of emotions ranging from blaring anger to flirty love. From the rollicking "In The Mood" and the gorgeous, acoustic guitar-led "Break My Heart Away," to the unplugged gem recorded entirely live, "Jake's Boogie" and the fierce "Bad Love" which was recently accompanied by a brand new music video.
Taylor has had a long and successful career, with fans that include Joe Bonamassa (whose band played on her UK Top 20 Hit album Wild), Stevie Wonder, Foreigner and Annie Lennox.  Taylor was discovered at the age of 16 by Eurythmics co-founder Dave Stewart and has, over the past decade, released successful albums, toured the world, headlined festivals and won awards.  2019 is sure to be a great year for Taylor!  On the heels of playing to packed venues across the UK, Joanne – a powerhouse performer – will bring her enthralling live show to the States for a run of headline dates and festivals across the country. The U.S. tour kicks off May 17th in celebration of the release of Reckless Heart and will continue through the fall. You can follow Taylor and stay up-to-date on all album and tour news, as well as purchase her music, via the following links.  Check out the list of her upcoming US tour dates below (you can purchase tickets HERE).
Website | Facebook | Instagram | Twitter | Spotify | SoundCloud | YouTube | iTunes/Apple Music |
Joanne Shaw Taylor 2019 Tour Dates:
May 17 Columbus, OH @ Rumba Café
May 18 Westland, MI @ The Token Lounge
May 20 Chicago, IL @ City Winery
May 23 Philadelphia, PA @ World Cafe Live
May 25 Fall River, MA @ Narrows Center for the Arts
May 26 Boston, MA @ City Winery
May 28 New York, NY @ Iridium
May 30 Alexandria, VA @ Birchmere
June 3 Nashville, TN @ City Winery
June 5 Atlanta, GA @ City Winery
July 20 Sioux Falls, SD @ Sioux Falls JazzFest
July 21 Minneapolis, MN @ The Dakota
July 26 Sisters, OR @ Sisters Rhythm & Brews Fest
August 9 Delafield, WI @ Waukesha Rotary Blues Fest
August 16 Barcelona, Spain @ Keeping the Blues Alive at Sea
September 5 & 6 Las Vegas, NV @ Big Blues Bender