First single released from upcoming charity compilation, 'Circulate Vol. 1'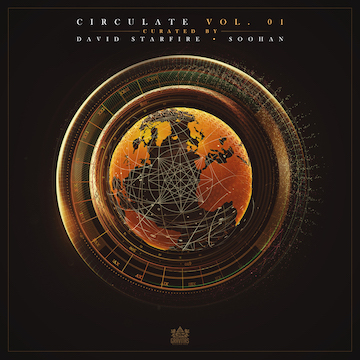 Doing Good with good music has always been Gravita's way of life.  With this in mind, Gravitas Recordings is pleased to release Circulate Vol. 1, a global bass compilation curated by David Starfire and SOOHAN.  This compilation boasts an impressive roster full of original tracks, remixes and collaborations with eclectic artists such as Kaya Project, An-ten-nae, Desert Dwellers, Beats Antique and CloZee, to name a few.  Circulate was created in support of Beyond The Grade, a grassroots 501(c)3 not-for-profit Austin-based charity that provides after school music education for underserved children.  Another mission of Circulate was to advocate the global bass music community that is growing around the worldThis compilation spotlights different sounds and features artists from around the United States, Finland, Ghana, Canada, Hungary, Angola, Poland, France, The UK and more who contribute to create cutting edge music that is a fusion of traditional cultural music mixed with modern beats, bass and rhythms.  There is a movement in music with different cultures coming together musically with dance music, as dance crosses all languages and is language of its own to be understood universally.
The compilation will be released on August 15th, and in preparation for the compilation, 3 single's will be released.  The first single,  An-ten-nae's "Kayu", was released today.  "An-ten-nae is an instrumental figure on the west coast, from his role as music director, producing legendary events at the iconic 1015 Folsom in San Francisco, to his signature Acid Crunk Compilations which helped define an era and help lay the foundation to what is now the West coast Bass scene. One thing is always constant, and that is constant evolution. With numerous successful projects like Dimond Saints, The Invisible People, DnA, An-ten-nae always manages to reinvent himself and push his boundaries. Utilizing his own custom set up, An-ten-nae pushes the envelope with his live remixing abilities and wildly engaging performances.  An-ten-nae has over 200 releases under his belt and collaborations far and wide including artists like Bassnectar, Beats Antique, Dirtwire, Desert Dwellers. He has charted in the iTunes Top 10, constantly in top charts on Beatport and featured in the Huffington Post, This Song Is Sick and Billboard. With over 60 Million combined streams / Downloads to date, and has played such venues and festivals such as Red Rocks, Electric Forest, Shambhala, Lightning in a Bottle. 2019 promises to be his most prolific one yet, with a constant stream of new music that sees him pushing boundaries into new realms with exciting new collaborations and productions."  You can find out more about Beyond The Grade HERE.  You can learn more about Gravitas Recordings HERE.  You can pre-order the compilation and donate HERE.