Jasmine Singh premieres her new song "Out My Mind"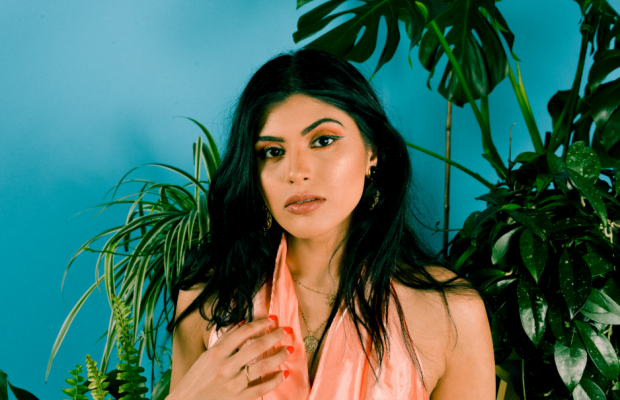 Recently given a Edmonton Music Award nod for "Artist to Watch", Jasmine Singh is here to stay and make a mark in the music community. Born and raised in Alberta, Jasmine started honing her craft early on – picking up guitar and piano and taking every opportunity she could to perform live. "Playing each and every one of those shows fueled my passion for music and performing and helped me realize what I want to do" Jasmine says. Raised in an Indian household, there were no limits to her early influences- everything from Lauryn Hill to AC/DC, and of course Bollywood music. Jasmine acknowledges her eclectic taste in music as a positive influence on her songwriting which helps her draw inspiration. Singh has created a strong following in her hometown by winning local radio contests and playing numerous festivals across Alberta.  She is most notably remembered for her mesmerizing stage presence and her multilingual vocal performances.  Some of her highlighted shows have been the CityTV Edmonton New Years Bash, Canadian Music Week and Western Canadian Fashion Week.  Jasmine describes being up in front of large crowds "the best feeling in the world", but it wasn't until a few years ago that she started to develop a love of songwriting too. She then began working with local producers, releasing multiple tracks that received notable support from radio stations nationwide.  Her most successful collaboration was with electronic duo Get Recked and their hit "Save Me".  The single landed her in the spotlight and it was there that she realized her potential as a songwriter.  Energized and emboldened by all the recent support for her debut EP Journey to the Sun, Jasmine hopes to continue to use her diverse music influences to create a sound of her own and break barriers as a South Asian female artist.
"Out My Mind", her new single, premieres today and is a song that will get you singing, dancing and an essential for your summer playlist.  "We knew from the beginning that we wanted the track to feel warm, tropical and percussion heavy" says Singh.  "The song itself didn't take too long to write once we had an idea of the overall vibe.  At first we wanted to push it be a love song and it still is talking about a relationship but a different kind.  The lyrics are based on the confusion and helplessness you feel when you are constantly being taken advantage of in a relationship, like when you give so much that you almost feel crazy for getting mad at them because you want them to want you the same way hence the "out of my mind" hook line".
You can follow Jasmine Singh and stay up-to-date on all upcoming music, artist and tour news via the following links: