Nightly discuss touring with NF, collaborating with British electronic artist Ayokay and what's next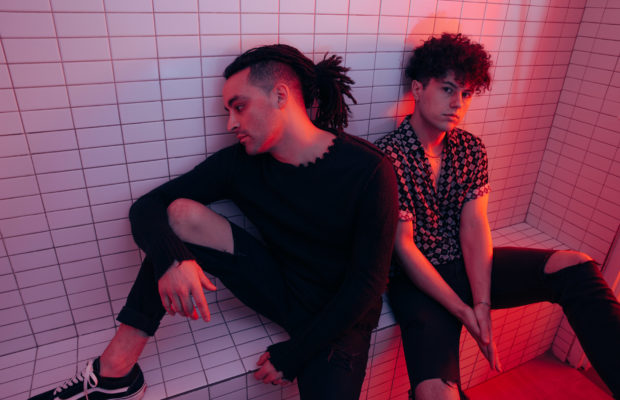 Nightly has been creating a buzz since releasing their debut EP Honest in October of 2016.  The band signed with Interscope Records in July of 2016 and blew up the charts immediately with their first two singles "XO" and "Talk To Me".  Cousins Jonathan Capeci and Joey Baretta grew up together in Philadelphia where they were a part of several bands, but later relocated to Nashville where they regrouped with their friends Stephen Cunsolo and Nicholas Sainato to form Nightly.  The band continues to release new singles on a regular basis, as a way to increase their catalog of material and give their fans new songs to sing along to.  Over the past two years, the band has opened for and toured with bands and artists such as Ke$sha, The All-American Rejects, Zella Day, K. Flay and The Struts.  They toured earlier this year as support for the rapper NF, visiting the UK for the first time, and are back out on tour with him now through mid-November.  They will be releasing a new EP this fall with hints of a full-length in the near future.  Staff writer Emily May spoke with the band by email and discussed touring with NF, collaborating with British artist Ayokay and what's next for them.  You can stay up-to date with the band and all upcoming tour dates and album information and stream and purchase their music via the following links- Website, Facebook, Instagram, Twitter, Spotify, SoundCloud, iTunes/Apple Music, Pandora, Deezer .  Check out the song "Sleepless Nights" that they did with Ayokay below, as well as their new single S.T.A.Y..  Photo credit: Louis Browne
You recently released your latest song S.T.A.Y.! What can you tell me about the inspiration behind the song?
I think we had made the little drum machine loop thing that's in the beginning and we were just talking about how you can have those moments of weakness where you look up someone you've dated online, even though it's a bad idea. That kind of sparked the rest of the song.
You joined the rapper NF on tour in the UK earlier this year. With his music being a different genre then what Nightly plays, what was the crowd's response to your music? Do you feel that touring with bands outside your genre allows your music to reach the ears of an audience that might not otherwise hear it?
Honestly the response has been amazing from his fans. Genre-wise you wouldn't think that it would work, but for some reason they have really accepted and embraced us.
You have mentioned that you like to preview new music at your shows to keep the set list fresh. Do you feel that doing so has helped you to grow your fan base?
We've done that in the past mostly because we haven't had enough released music out to fill a full set. We're getting there now though. It is fun to try new stuff out, and I think we always will to some extent, but it's more fun to play stuff everybody knows.
You recently collaborated on the song "Sleepless Nights" with British electronic artist Ayokay (Alex O' Neill). How did you meet Alex and what prompted the collaboration?
We met Alex in a random writing session that we had been set up with. We spent most of the session just hanging and playing each other music/fan girling. Eventually he played us this track that had no vocals or anything written and we thought it was super cool so we wrote on top of that and it became sleepless nights!
Jonathan- You have mentioned how you and Joey are growing together as a band and exploring your sound together. How do you feel you have grown as artists and how do you feel that your sound has evolved since you started performing as Nightly?
I think we're just getting more comfortable/free in our writing. I genuinely think everything we've been writing beats out what we wrote before, which is a really exciting feeling for us.
Nightly has released a lot of new songs this year! Jonathan- You have mentioned wanting to release a lot of singles as a band before releasing a full-length album. Do you have any immediate plans in the works to record an album?
So we're releasing our second EP this fall and there are already a bunch more songs that we have written since finishing the second EP…
I read that your tour earlier this year supporting NF was your first time in the UK! What did you love about the UK and the music scene there? Did you get to do much sightseeing? What were the audiences like there compared to the US?
We did as much sightseeing as possible. I barely slept because I wanted to soak it all in. Fans over there were incredible. Strangely I noticed more similarities than differences between fans there and fans over here. They really made us feel welcome. Some people at each show would know the words to our songs, which is still something I have a hard time comprehending.
What's next for you guys?
More new music and touring!