Mott The Hoople '74 // Cleveland, OH // 04.06.2019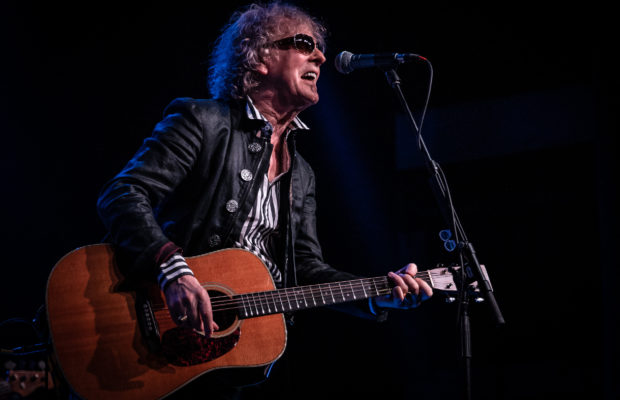 Mott The Hoople '74
Opener: The Dream Syndicate
Masonic Auditorium, Cleveland, OH
April 06th, 2019
Words and Photos by Steffi Wegewitz
On Saturday night "Cleveland Rocks" with Mott The Hoople during their first US tour in 45 years. The show sold out within hours of being on sale and an excited crowd gathered at the Masonic to see singer Ian Hunter, guitarist Ariel Bender and pianist Morgan Fisher along with an excellent backup band perform their hits.
Hunter, wearing his signature sunglasses, and band came on stage shortly after 9pm to an audience who has waited 45 years to see them live. Much to my surprise it took the crowd a couple of songs to warm up and most everyone sat during the first couple of songs. But this obvioulsy also had something to do with the average Mott The Hoople fan being 60+ years old at this point. By Sweet Jane, a Velvet Underground cover, the entire floor was standing with their hands in the air, singing along.
Ian Hunter, who will turn 80 later this year, was rocking the stage for almost two hours and played everything the fans were hoping to hear, closing out their set with an amazing medley (check out the setlist below).
They came back for a three song encore and finshed just before 11pm leaving fans in the audience hopeing it wont't take too long until they come back to Cleveland.
Opening the night were The Dream Syndicate, who I loved watching perform. They performed a very solid 40 minute set and the audience seemed to enjoy them.
SETLIST
01. American Pie / The Golden Age of Rock 'N' Roll
02. Lounge Lizard (Ian Hunter song)
03. Alice
04. Honaloochie Boogie
05. Rest in Peace
06. I Wish I Was Your Mother
07. Pearl 'n' Roy (England)
08. Sucker
09. Sweet Jane (The Velvet Underground cover)
10. Rose
11. Walking With a Mountain
12. Roll Away the Stone
13. Marionette
14. Jerkin' Crocus / One of the Boys / Rock and Roll Queen / Crash Street Kidds / Whole Lotta Shakin' Goin' On / Johnny B. Goode / Violence / Cleveland Rocks