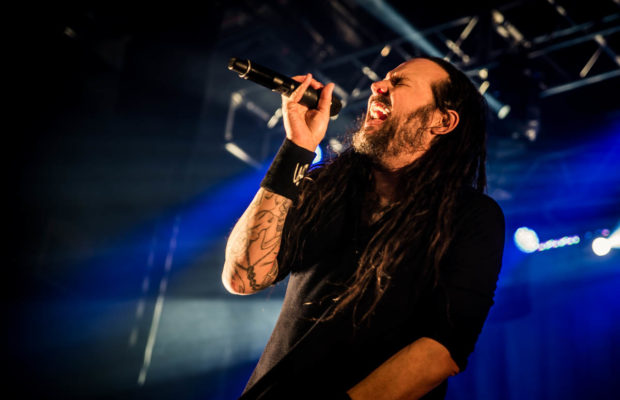 KoЯn
House of Blues
Anaheim, CA
March 5, 2017
It's hard to believe that KoЯn is 24. You wouldn't know it watching the high energy headbanging of kilt clad Jonathan Davis, guitarists James "Munky" Shaffer and Brian "Head" Welch with bassist Reginald "Fieldy" Arvizu running the stage from one side to the next with Ray Luzier providing the heart pounding drum beat. Kicking it right off, the guitar driven "Right Now" opened the first of two sold out shows at the brand spanking new House of Blues in Anaheim, CA. Powering through to "Here to Stay" and "Rotting In Vain", the guys did a variation of "Coming Undone" with a detour to Queen's "We Will Rock You".  Packing in "Shoots and Ladders" with Davis welding his bagpipe for the intro and complete with an alternative Metallica "One" ending, a blow-you-away drum solo, and ending with "Falling Away From Me" and "Freak on A Leash", it was 90 mins that would have any metal head wanting more. And more they shall have. With Corey Taylor taking the stage during "A Different World", which Taylor lent vocals to on the 2016 'Serenity of Suffering' album, KoЯn and Stone Sour announced an epic summer tour. "The Serenity of Summer" starts on June 16th in Salt Lake City with fellow metal bands Babymetal, Yelawolf and this KoЯn show opener, Islander, from South Carolina. If for some unknown reason you haven't seen KoЯn yet… what are you waiting for?!
Words and Photos by Jessica Jones
Copyright © 2013 Stitched Sound.